Honda Africa Twin
---
2009
My last trip was to Cambodia. Almost all the way to Phnom Penh I was driving with only one cylinder. Every evening at maintenance. At last mechanics in Phnom Penh were able to fix it temporarily. After getting back to Thailand I bought a brand new Yamaha FZ1 and sold this old friend to a good home.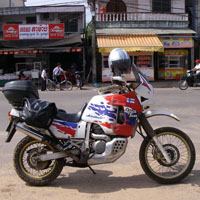 ---
2008
---
2007
I was driving Africa Twin back and forth between Cambodia and Thailand for three times. I'm happy that thais are building these bridges between Koh Kong and Phnom Penh.
In February a thai truck pushed me off the road. I have no idea if he did on purpose or if he had a nap. We all survived, but had some scratches.
---
2006
My first trip to Thailand 2006 began from Chiang Mai, where she (I mean my bike) was waiting for me. I was not driving much, just Mae Sariang and back over Doi Inthanon (highest mountain in Thailand). The windshield was broken, so left the whole front for repair. You should see my new new hand made wind shield...
In November I met my bike again (and also my girlfriend, who now was both pregnant and married - not with me). New Ortlieb bags fit this bike perfectly - highly recommended.
---
2005
In February I tried to pass a car at bottom of Tonle Sap lake. It took four guys to get it out. My command board has a lot of liquids, but I'm still seaching for a can holder.
In November from Cambodia I drove to Chiang Mai, from where I started guiding small group around North Thailand.
---
2004
---
Perustietoja
---
Please, send any comments to Severi@mad.bike