Thailand and Cambodia 2006 February-March
Related pages

My own TamTamTam / Sukhotai / Moranakiri / GT / MotorBokor pages
---
In February I returned to Chiang Mai. I was so unsecure about everything. I was not sure if I have my girlfriend waiting, my bike is ok or how is a strange hotel Golden Cupids, where I have never been before. It all turned out to be well. I found her from the airport after all the hassle, my bike was almost ok and the hotel was far away, but nice and friendly.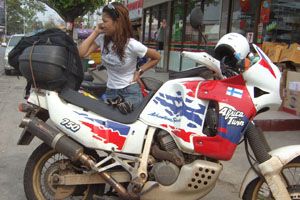 After a night or two in GC we headed to Mae Sariang for a visit to a refugee camp near the Burmese border. We stayed two nights at Karen town Mae Sariang and visited so friendly locals. We had some local "whisky".
Next day we were travelling several hours in a car (!). First to Burmese border and then to the refugee camp of Karen people, who have escaped from Burma. The road was extremely bumby (a dream road for a motorcycle) with spectacular views (but you actually cannot enjoy the views from the car). We had local dinner. And then we drove back.
My friend Pekka came also to Mae Sariang with Hiko's Africa Twin and we drove back to Chiang Mai together via Doi Inthanon.
Next few days we just relaxed in GC before I flew to Phnom Penh. And lets not forget our helpful gentleman Granpa.
And then I flew to Phnom Penh....
---
Please, send any comments to Severi@mad.fi